Catalog
Online consultation of the software
- software of the 2143 Kanji of Kanjihandbook by a year subscription for a price of 9.95 €.
Also available in French (Cf.

) or Japanese (Cf.

)
Applications for tablet
This "Demonstration" (or "Discovery") shows all the functions and general documents of the full application, but displays screens of 45 Kanji
(3 lessons of 15 Kanji) among the 2143 Kanji in "common use".
Applications to download on

and on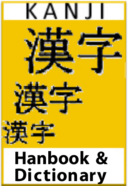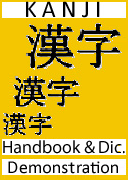 or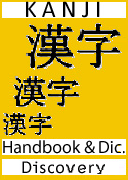 Kanji Handbook and dictionary - 2143 Kanji - 9,80 euros before Tax

Kanji Handbook Demonstration (Google play) or Discovery* (Apple Store)
*Apple rejecting now the word "Demonstration"
45 Kanji - No pay


Version available in French (Cf.

)
Book and Software

Kanji Handbook and dictionary - (with a year access to its Software)
2143 Japanese Kanji in common use
by J-C MARTIN
This reference book gives:
- their readings with the 7300 related compounds
- a graphic chain in three steps
- a breakdown into key and phonetic which help understanding and, therefore, memorization
- five indexes which, combined with a systematic classification, allow to find a Kanji easily.
- general statistical approaches
- a year subscription for the Software with its general documentation, a full display of each Kanji by screen, 40,000 links allowing to navigate the families of keys and phonetic, comprehensive search modes - among others by drawing with the mouse of unknown Kanji; indexes, including an index by meaning - extended to compounds - of nearly 19,000 entries.
FransOrienT - 520 pages - Size A5 - 44 € - Available on special order
Copyright 2013 n° ISBN 978-2-9528781-6-6
For other applications, books or Software in French, consult the site in French

; in Japanese, consult the site in Japanese